You may have noticed recently, how many websites have started displaying push notifications. This is a new trend which is enabling sites to capture visitors without asking them to sign up.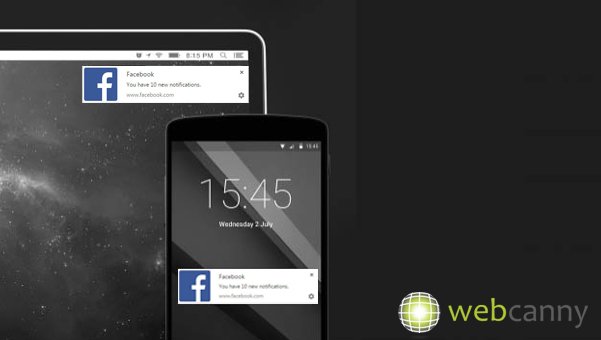 As soon as users visit some popular websites, an opt-in dialogue box pops up. They are given the choice of allowing or blocking push notifications of that particular website. Many websites like FaceBook, Pinterest, News portals and even many local sites now use website push notifications, which resemble dialogue boxes, asking for permission to install software updates. The only difference is that they will be used, to re-target the customers. This is a new way of capturing and tracking visitors without formally asking them to sign up for your services. It is a new addition to a list of online marketing tactics that have already utilised Newsletter signups, Ad Retargeting and Exit popup boxes.
 What exactly is Push Notification Service?
Push notifications pop-up on the desktop or mobile of the subscribers of a particular website. The visitors who opt for it, start getting these notifications. When they are clicked, they lead to special offers, product pages, online polls, or valuable content.
Applications of Push Notifications
Push Notification Service is in its heyday, and marketers want to make the most of it. There are many ways in which website push notifications may be applied. They can also be applied on Android mobiles, for the subscribers who have already downloaded your App.
1. Send limited period offers.
Push-notifications instil a sense of urgency in web visitors, as they appear in real-time and prompt them to act faster than they do on any other media. These can be used to display limited-time discount offers to visitors, and get a fast response.
 2. User specific offers, depending on the time spent on your website.
Selling products based on website behaviour is a sure-fire way to gain back lost customers.
When users visit a shopping site and show interest in a particular product, they are immediately 'captured'. Within a span of 15 minutes, they are targeted using specific offers depending on their web-interests. This is done while the buying intent still remains in the user and there is good chance of a sale.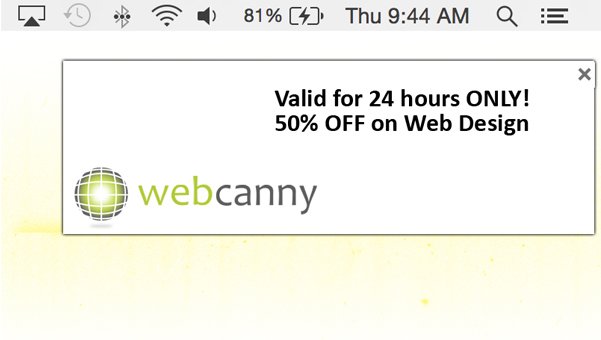 3. Automated push notifications upon publishing a new blog.
One may be familiar with the RSS to email notifications, where a subscriber gets an email when a new blog is published. Similarly, with RSS to push notifications; your subscribers immediately get push notifications when a new blog post is out. Studies have revealed that a push-notification has 3 times more click through rate when compared to an email notification.
4. Instant Communication with your Audience
If your audience is notified about your new blog post via popular social media, they may feel it is 'old wine being packaged in a new bottle'. However, if you notify them via web push notifications, they will get the impression that it is 'fresh off the oven', and most probably will click through it, 'to grab a bite' and check it out.
 5. Push notifications to verify abandoned shopping carts
If visitors are on your website, suddenly abandon the shopping cart, then you may send a push notification after a few minutes, with an appropriate message reminding them like for e.g., "You have 4 items in your cart" or something similar. Thus, if the users had really forgotten about it while navigating away from your site, they can be made to come back and complete the order.
6. Re-targeting and Upselling.
As discussed earlier, users will be targeted with ads based on their interests. Thus, we will be categorising our visitors into different segments, and send them offers according to their behavioural data. Thus you may target those using notifications along the lines of, "People who purchased <product name> also purchased this". Thus you will be curating content for your visitors, who will feel that they don't have to keep browsing the web for similar products as they can trust you to provide them with curated content tailored to their requirements.
7. Getting Feedback
Studies have revealed that push notification subscribers have an opt-in rate of 40% when compared to your email subscribers. You may have noticed in the recent times, that you get push notifications when you exit certain sites, with a message along the lines of, "Are you sure you want to leave this website?" This can also be used to gather true feedback from visitors exiting your site so that they can rectify issues in the best interests of the users.
Writing Push Notification Text (with a 40 – 120 chars limit) and best practices
The only limitation with push notifications is the text size, which varies from 40-120 characters on various platforms. It is imperative that the services of a good copywriter are sought to make the best use of the limited space and convey your message in an effective way.
However, the visitors may still be bombarded by several similar website push notifications. So how do you stand out? You may choose to stand above the crowd by giving out a limited time offer or 24-hour discount notification. However, make sure that the notification contains brief and enticing text, which will prompt users to click on it.
Measuring Push Notification Performance
The last, but most significant step is to analyse the push notifications' performance. You need to ascertain the below:
The number of clicks for the push notification
Forms filled by visitors
Trial downloads
Product Purchases
Once you check out the analytics report for all the above activities, you can have an idea as to whether or not, push notifications are paying dividends. Accordingly, you may plan to continue or discontinue push notification services.